Becetel® has a broad experience in the testing of plastics, being it pipes, fittings, valves, electrofusion joints or extruded profiles. Our scope of accredited test gives already an impression of our testing capabilities. A non-limited list of our testing possibilities can be found in the test selection tool:


These test are carried out in 4 different laboratories:
a conditioned space (23 °C, 50 %RH) for the determination of mechanical properties (tensile, flexural,...);
a multifunctional hall for S4, leaktightness, cryogenics, hydrostatic testing, ...;
a chemical lab for physical properties (MFI, DSC, Vicat, corrosion testing,...);
a microscope room for fracture analysis;
In order to perform all these tests Becetel
®
has a wide range of equipment for materials testing (PE, PVC, PEX, composites ...) like:
large water baths for internal pressure testing
pressure stations
universal testing machines
ovens, climate chambers, refrigerators, freezers
impact testers
data-logging equipment
microscopes
DSC
MFI
Vicat
ultrasonic thickness gauge
hardness
flow meter
fusion machines
torque wrenches
strain gauges
height gauges
micrometers
thermocouples
FNCT
...
We also have our own mechanical workshop with equipment for turning, milling, drilling, sawing or welding and even a new small scale CNC machine. The skilled employees in this workshop ensure the sample preparation, the modification of existing machinery and the development of new testing equipment.
Becetel
®
can handle various pipe diameters, ranging from ø8 mm till ø2100 mm (until now).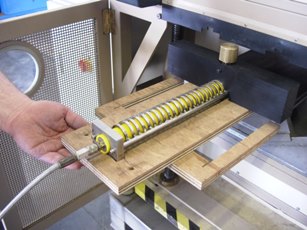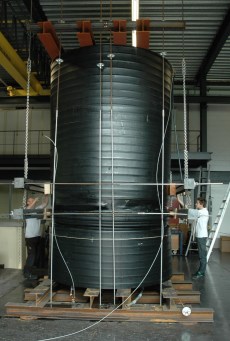 RCP:
Thanks to our former full scale test site we have extensive experience in performing rapid crack propagation (RCP) tests. So far that we could substitute the full-scale test with the smaller S4 (Small Scale Steady State) test by correlation. To this day we are still strongly questioned for performing S4 testing. The old full-scale test site in Langerbrugge was closed in the summer of 2015.
ISO 9080 and SEM analysis:
The ISO 9080 standard describes a method for estimating the long-term hydrostatic strength of thermoplastic materials by statistical extrapolation of the pipe rupture data from internal hydrostatic pressure tests. Becetel
®
has developed a software package to perform this so called Standard Extrapolation Method (SEM) analysis described in the ISO 9080. A more detailed description and ordering information can be found on
www.iso9080semdisk.com
.
For any inquiry, please
contact
us.